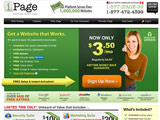 1 click b2evo install
Unlimited Disk Space
Unlimited Transfer
« At iPage, we have a team of folks who think about nothing but the customer experience and our user interfaces. Every month, we launch something to make it easier for you to use our services. And, we do loads of user testing and surveys to identify and address our customers' "pain points."
Free point & click site builder • Free online store • Unlimited MySQL Databases • Unlimited emails • Unlimited Domains Hosted • Website Builder • Easy install of many scripts including b2evolution
When you contact us, you'll almost always be in touch with one of our agents in less than two minutes. You'll also be dealing with someone who has passed a variety of tests and meets our quality standards. Plus, you'll receive a survey that helps us assess whether or not you had a great experience. »