HostClear Review
Posted by
fplanque
on May 05, 2010 in
Reviews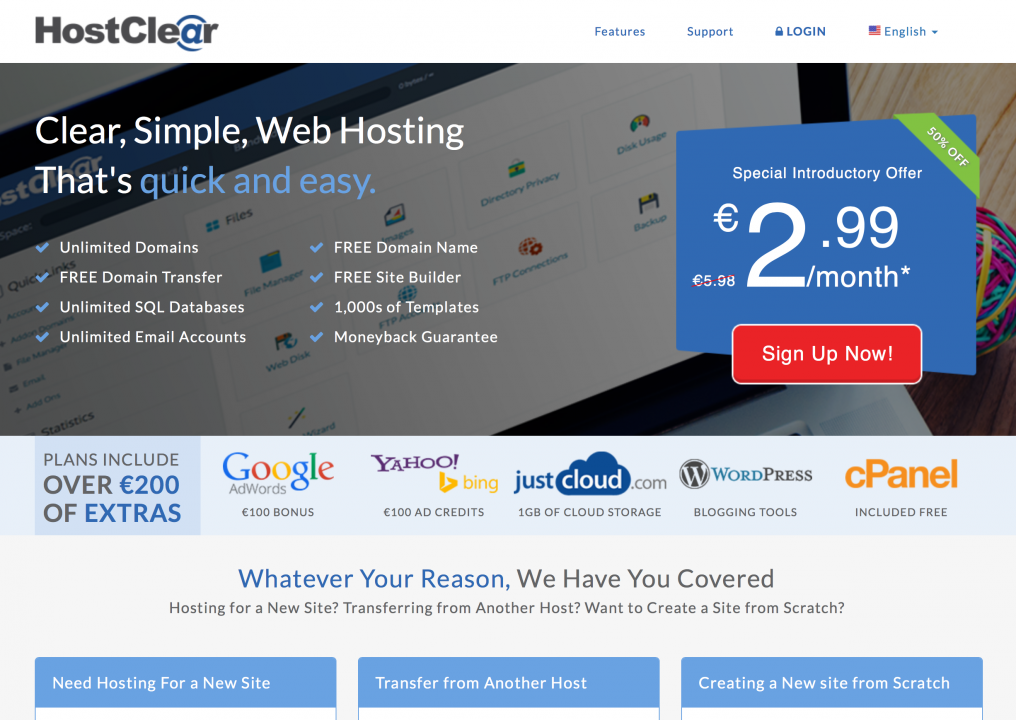 Company
HostClear was founded in 2008 as part of the Just Host group and has rapidly become a major player in the web hosting industry. They have offices in Gendale, CA as well as Fareham, UK.
By having started their operations in 2008, HostClear could take full advantage of mature web hosting technologies whch gives them a competitive advantage over older competitors who still struggle with inefficient legacy systems.
Founded: 2008
Sister companies: JustHost
Office locations: Gendale, CA & Fareham, UK.
Features
HostClear provides a range of state-of-the-art features, among which:
High speed servers
Free Ad Credits to promote your site in search engines
One or more FREE domains for life (depending on plan)
Unlimited hosting disk space
Unlimited hosting bandwidth & transfer
Unlimited domains per account hosted for free
Website statistics package
Google webmaster tools
Free instant setup
24/7 technical support
1 click install of b2evolution
No hidden fees
Additional features available on high end plans:
Free Spam Assassin spam filtering
Control Panel
cPanel, which is provided to users, is the most well-liked and user-friendly control panel presented for web hosting. CPanel includes tutorials with step by step guides.
HostClear's admin interface has a few promotional items that can be disturbing at first but they do not really get in the way once you get used to their control panel.
Control panel: cPanel 11 - Up to date
Easy web application installer
cPanel also includes the Fantastico script library which has a 1-click installation for all of the scripts in the Fantastico library. B2evolution, Drupal, Wordpress and Joomla are also supported
Application installer: Fantastico Deluxe - Up to date
Technical Specs
MySQL - Up to date
PHP - Up to date
UTF-8 and mbstring: supported
Overall, the platform is state of the art.
Performance, Uptime & Equipment
Our test site showed excellent response times and very good uptimes.
We were able to perform 10 simultaneous FTP transfers, which makes upload very fast.
99.9% Uptime Guarantee
Nightly backups
Simultaneous FTP uploads: 10 (Excellent)
Security
HostClear runs on mod_suPHP which guarantees strong isolation between user accounts.
SFTP is also available for Secure FTP file transfers.
PHP security: suPHP
FTP security: SFTP
Overall security is excellent.
Customer Support
HostClear offers toll-free phone support as well as 24/7 free e-mail and live chat support in order to get you answers in a matter of minutes.
They also maintain a comprehensive knowledge base with quick and easy access to common questions & answers.
Customer Satisfaction & Guarantees
Users reported effective support & a general ease of use.
HostClear actually guarantee user satisfaction through an unique "Moneyback Anytime" guarantee. That means that, as a customer, you can get back your money if you are not satisfied, at any time, not limited to the first 30 to 90 days like other hosts do.
Conclusion
HostClear not only offers an excellent price point compared to their competition. They also have an excellent track record regarding all other important web hosting factors: richness of features, server speed and fast effective support.
3 comments
Comment from:
product research
[Visitor]
HostClear has great features and performance. I think it also has a unbreakable security.
I came to Hostclear from another web host because I was not technically savvy and my previous host did not give me enough/fast technical support. I was very happy with Hostclear on this part since they answered me almost instantly and walked me through my issues. ANd I was up and running in no time.
However, after a while my site got more traffic (a lot more) and they notified me that I was using more than my fair share (I was GRRR but indeed in the terms they do say not to use more than 25% of their resources) , Anyway, I upgraded from the shared server to a dedicated one and now I am happy again!
All good. I signed-up, set-up my site super fast, site been up and running. no issue no hassle. and cheap!