AN Hosting pricing review
posted on Feb 5, 2008 by
Francois Planque
in
News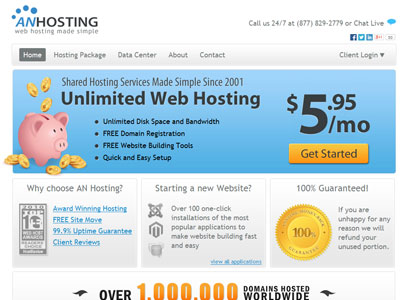 General
This is a summary review of AN hosting.
An Hosting is owned by the UK2 group along with several other hosting brands. The positioning of AN hosting in the family seems to be centered around the concept of giving a daily price like "Now only 19 cents a day" (which is actually $5.95/month divided by 31).
At this time we have insufficient feedback and testing to form a strong opinion on the quality of this hosting offer.
Support is U.S. based and available 24/7.
1 comment
User ratings
5 star:

(1)
4 star:

(0)
3 star:

(0)
2 star:

(0)
1 star:

(0)
Hi all,
I really agree now AN hosting is best in its services. Hurray!!!!